Registration for CUSL exams
We kindly ask you to register for any CUSL exam you intend to take.

Therefore, please send an e-mail containing your name, matriculation number and the exams you would like to take.
In addition, please state shortly, whether you are a CUSL-student (with the intention to acquire the CUSL certificate at some point during your studies) or if you are taking the exam for any other reason (e.g. a Fremdsprachennachweis).In case you would like to take any of our exams within the Wahlbereich of your Schwerpunkt, please make sure to register through KLIPS before the exam.
Example email: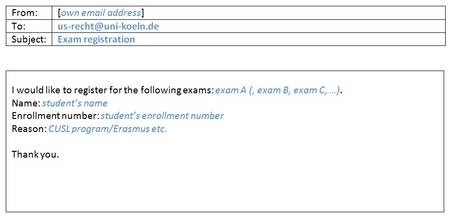 If you fail to do so, the exam will not count towards your Schwerpunkt. If you encounter any problems during the registration process, please contact the Prüfungsamt.